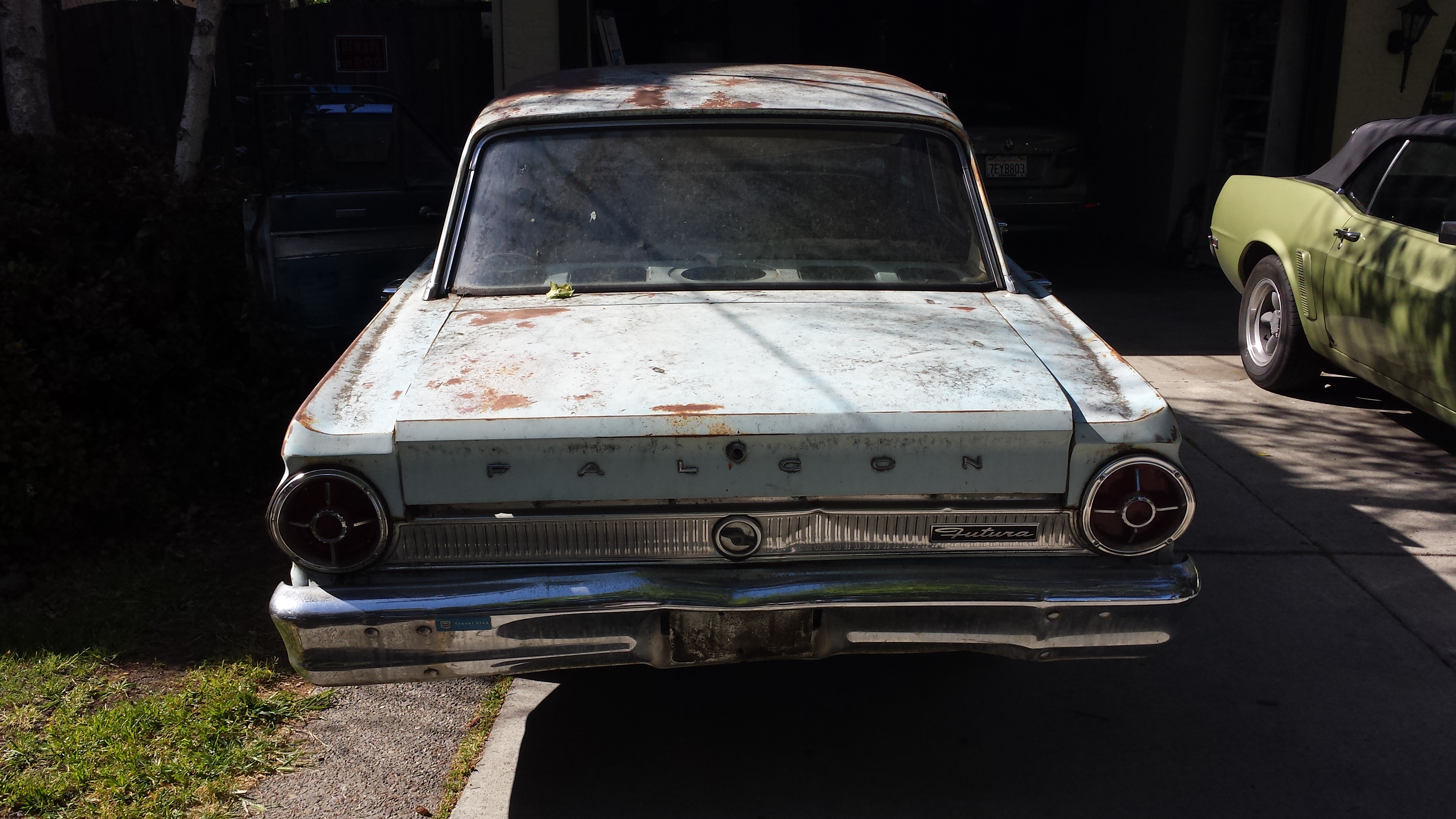 We're 99% sure that if this car could talk, it would either swear uncontrollably or say something pretty epic. (Maybe both?)
The automotive equivalent of the ugly duckling, this 1964 Ford Falcon Futura had seen better days.
A car collector would take one look at this car and walk away. This is as spartan as they come: four doors, inline six motor, three on the tree manual transmission and four wheel manual drum brakes. From a collector's stand point, this car has nothing going for it. However, from an enthusiasts stand point, this is the perfect project to start with. Cheap, easy to work on, and classic!
Although this car was given away by the owner and doomed to be scraped, fate had something else in store for it. The new owner pulled the engine and transmission and that was the end of it.
From there it exchanged hands a few times spending 14 years without a motor until we found it on craigslist tucked away in someone's backyard. The owner was asking $500 but was turning people down because they had the intentions of parting the car out. I came along with $300 and a promise to fix it.
The next day the car was dropped off at my house! (He conveniently had a trailer)
What stood out on this car was how intact and complete it was. The trim and stainless were all accounted for and in good condition, all the shifting mechanisms were present, even the engine harness was intact. My initial plan was to give it a quick pressure wash and put it on craigslist, but after exploring the car some more and realizing that it would be an easy project, I promised the owner that I would make it run and drive.
Our first move was to put in a battery and see what would happen. This car still had the original 1964 date coded battery cables which looked a little worse for wear.
To our surprise, they still worked, just like the rest of the lights! In fact, everything worked, the headlights, tail lights, and even instrument clusters lights came to life. This merely confirmed my suspicion that this was a nice untouched car as far as the internals go. If the wiring was in trouble, then I would have seen myself immediately throwing it back on craigslist. Knowing that I wouldn't have to deal with chasing electrical problems made things significantly easier.
Comments
comments